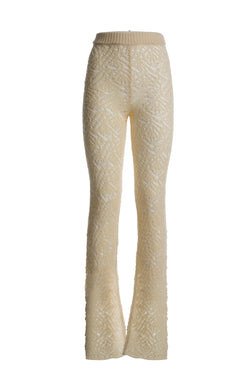 ZUCCHERINO IVORY CROCHET WOOL PANTS
If you loved our Saint-honorè crochet cardigan you will love it even more together with its Zuccherino trousers.
Discover this exclusive co-ord set in pure crocheted wool.
COMPOSITION: 100% WOOL
MADE IN ITALY
Shipping Costs
All the orders will be processed within 7 business days, then will be shipped and delivered within the below delivery times (guidelines only).
Italy: GRETA BOLDINI offers free standard delivery in Italy within 2/3 business days
Europe: € 25 within 2/3 business days
Andorra, Liechtenstein, Norway, Switzerland: € 30 within 2/3 business days
Rest of the World: € 55 within 4/5 business days
Delivery times are provided as guidelines only. Kindly note that delivery to rural addresses can result in longer delivery times.
Taxes and duties
The Prices of Products are expressed in Euros, inclusive of taxes and excluding customs duties, for orders outside of the EU that shall be borne by the Customer.
For orders outside of the EU :
All applicable duties shall be borne by the customer. Unfortunately we cannot estimate how much duties you will pay but your local customs should be able to estimate the price.
GRETA BOLDINI cannot be held responsible for any action and/or costs and/or taxes and/or delays due to customs over which it has no control.
Important information
Delivery times are provided as guidelines only and do not take into account possible delays caused by payment authorization and/or stock availability and/or customs delays.
Insurance
GRETA BOLDINI insures each purchase during time in transit until it is delivered to you. All orders require signature upon delivery, at which point responsibility for the shipment passes to you. If you have specified a recipient other than yourself for delivery purposes, you also accept that signature by the third party is sufficient proof of delivery and fulfilment by GRETA BOLDINI.